April 2017
Debris at Heights
---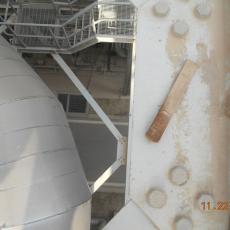 At a new plant in the Middle East, EPR encountered an alarming amount of debris on steel members, gallery platforms, and other horizontal surfaces up to 150' in elevation from grade.
Power plants move, vibrate, and have operating transients where loads are imparted on the structures and equipment.  Essentially, these items will eventually become falling debris with the obvious safety implications.
To further the concern some of the items are quite significant.  Pieces of angle iron, bolts, nuts, wedges, grinding wheels, and a limitless amount of other items.
In this particular plant, EPR made the contractor clean up one unit.  The debris collected filled a 10-yard dumpster.  There were an additional 15 units in this very large plant.
Most contractors have a clean and close process, but in this instance and in others evaluated by EPR, no real effort was made by the contractors to present a finished product.
Repair Costs
Minimal, unless a serious safety incident occurs.
Green Moss
---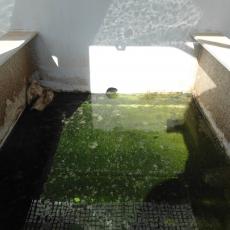 A plant was evaluated that had an extensive desalination operation where seawater was flashed to create drinking water.
On the roof of the process equipment, there were insulated and uninsulated bays.  One of several coatings problems was the difficulty with this arrangement related to coating selection.  The top of the evaporator is essentially flat with bellies in the areas between the structural stiffeners.  Water tends to collect in these locations and will not drain.  In some cases, drain holes didn't exist so water has been pooling for a couple years. 
In these areas of the tops, the coating selection (urethane) was not suitable for water immersion and breaks down progressively.  On the other hand, leaving the surface in epoxy would solve the water damage problem, but is not a solution because it is susceptible to UV breakdown.  Therefore, the coating system as installed was not compatible with the propensity of the surface to hold and pool water.
This was not an academic concern, as there are indications the coatings had already failed.  One photo shows the adhesion x-cut... Read more
Repair Costs
Unknown, but significant.
Adverse Shrinkage
---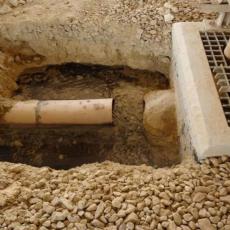 In a Middle East plant inspected, recurring problems with the process drain system was discovered.  It originated from a design flaw where the desalination units had to be blown down more robustly than anticipated to achieve proper conductivity in the steam cycle.  To compound the process control difficulty, the drain material selected by the EPC contractor was PVC, which simply cannot stand elevated temperatures.
PVC is interesting because unlike may materials it's strength simply disappears once the working fluid gets to about 140F.  It also shrinks axially when it undergoes heating and cooling cycles.  For condensate drains to be routed to sumps which feed an underground network of PVC piping material is certainly a high-risk proposition.
After a bit of excavation and diagnosis, it was confirmed that the process water overflow of the sumps was from collapsed drain lines, piping that pulled away from the sumps, and other similar failures.
The only permanent remedy is to replace the PVC with a material that can withstand condensate temperatures of 212F.
This is an engineering... Read more
Contractor Savings
There were probably minor savings, amount unknown.
Repair Costs
Once repair costs under Warranty considered, this was costly for the Contractor.