Clean&Close
Debris at Heights
---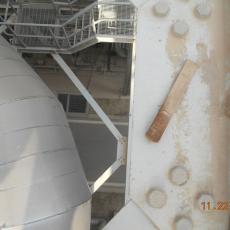 At a new plant in the Middle East, EPR encountered an alarming amount of debris on steel members, gallery platforms, and other horizontal surfaces up to 150' in elevation from grade.
Power plants move, vibrate, and have operating transients where loads are imparted on the structures and equipment.  Essentially, these items will eventually become falling debris with the obvious safety implications.
To further the concern some of the items are quite significant.  Pieces of angle iron, bolts, nuts, wedges, grinding wheels, and a limitless amount of other items.
In this particular plant, EPR made the contractor clean up one unit.  The debris collected filled a 10-yard dumpster.  There were an additional 15 units in this very large plant.
Most contractors have a clean and close process, but in this instance and in others evaluated by EPR, no real effort was made by the contractors to present a finished product.
Repair Costs
Minimal, unless a serious safety incident occurs.