May 2018
Pipe Rack Bolting
---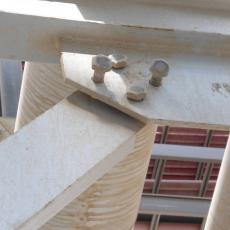 The consequence of structural failure in a power plant is operationally serious and can be life threatening.
 
When structures are designed for bolted connections usually "high-strength" fasteners are indicated (ASTM A325/A490).  If these bolts are not installed properly, per the standard (AISC/RCSC, or other), the joint does not support the loads expected by the engineer.  So, when loose bolts are observed in completed facilities, it is alarming because it is an indicator the contractor's bolting program was flawed.  Properly installed bolts are verified to be pre-tensioned, which practically eliminates nuts backing off for any reason.
So what constitutes proper pre-tensioning?  The code guidelines are specific, however, in simple terms bolts must achieve a certain amount of stretch.  The complicating factor is that pre-tensioning varies depending on manufacturing lot, and environmental conditions like moisture because of variable thread friction.  This means that daily testing (for each lot) is required to determine a "torque value" for the assembly.  If this is not... Read more
Repair Costs
Contractor: RCSC arbitration is moderately expensive.  Owner: Risks structural failure and personnel injury.
Lightning Protection
---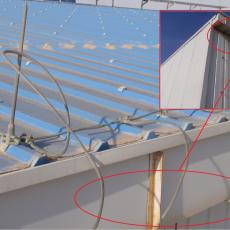 On many projects, lightning protection is installed by a subcontractor and happens near the end of a project when other activities dominate everyone's attention.
As a system, lightning protection requires attention to details, so it is not surprising that on projects that generally suffer from workmanship problems, the lightning protection installations also suffer.  This is unfortunate, because the standards are in place to provide guidance for protection from strikes that can have severe consequences to plant equipment and personnel.
For those familiar with Houston, TX, it can be easy to understand the amount of lightning present is significant.  The new plants used in these examples are also in a similar flash density (flashes/mi2/yr).  This is to suggest, this is important.
The EPC contract was clear in these cases regarding the requirements.  The photos show workmanship defects that are representative of systematic failures throughout the systems.  This included grounding conductor connections not being properly crimped and often disconnected, material incompatibility with... Read more
Repair Costs
Repairing a bad installation is not largely expensive, however, significant cost can occur for an Owner if a lightning strike occurs without a functional protection system.
Not-so Structural
---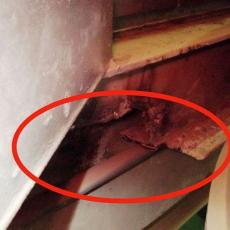 Strangely, at several plants we have reviewed there seems to be at least a few occurrences of structural steel near steam turbines being gouged out by flame-cutting to fit piping or other equipment.
The reason is obvious.  It takes no effort to cut a beam compared with the proper approach to ask engineering for a modification.
However, people walk and work on those platforms including often disassembling valves or other items that weigh a bit.  Some of the photos show a platform that is failing (sagging) under its own weight.
Overall, not a great present for a contractor to leave an O&M team.
One high-level observation…  On projects with an involved and demanding owner, the type of behavior it takes to affect these types of actions is usually not found.  Why?  Because it is implicitly understood there is personal risk (being fired) for an individual involved in this type of careless activity.
Contractor Savings
Minimal cost but takes some engineering involvement.
Repair Costs
Can be a minor expense to repair, but more important as a safety issue.