Pipe
"Old School" Steam Drains
---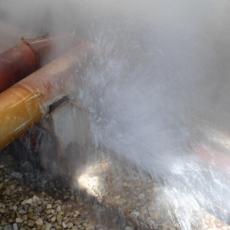 Keep in mind, this is a new plant in operation about one year, in a location where quality plants are built routinely...  Yes, this is a NEW plant built to contemporary codes and standards by a large international EPC contractor.
During EPR's review of the Facility, this system is perhaps the single most compelling example of inferior design in the plant.  While not the most cost intensive, the effects are broad reaching.  The open trench design belches hot condensate on steel, electrical hardware, and other equipment leaving the plant to look ready for decommissioning.  O&M personnel are left to perhaps unknowingly assume that facility condition is not important to the owners; how could it be, look at this?  In so many ways this is not consistent with the Facility purchased.
The condensate collection system of trenches and transfer sumps has experienced critical deterioration. Serious failures in the concrete infrastructure include trench through-cracks, cementitious erosion, advanced concrete spalling and scaling, sub-grade undermining, differential settlement, and accelerated... Read more
Repair Costs
Unknowable, but very significant.  Violates Environmental permit, among other problems.