February 2017
Pinholes...
---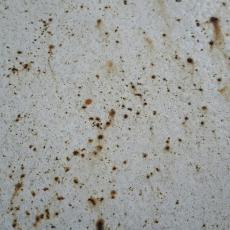 Engineered coating systems are complex, as mentioned in other postings.  When the manufacturer's recommendations are followed, these coatings are very good at preventing corrosion to the substrates.  However, if proper prep, mixing, contamination control, etc., is not followed there can be many different defects that render the coatings useless.
One such defect is known as "pinholes".  Often, or usually, this defect is not observable with the naked eye without magnification.  It's almost like worms ate holes down through the layers of coating.  Sometimes pinholes exist in a top coat, or maybe also the intermediate coating layer, but not penetrate the primer.  In other instances, the pinholes may extend all the way to the base metal.  If the coating is fairly new and pin point rusting is observed, chances are pretty good the pinhole goes to the base metal.
The remedy in such instances, is removal of the paint layer with the defect.  If the primer also exhibits the defect, all the coating material needs to be removed.  So, a "paint job" may look impeccable, but be a complete failure under... Read more
Repair Costs
ROM - $25mm and a year of time by a well staffed painting contractor.